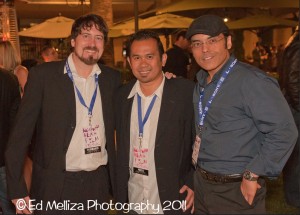 Come join us tonight at the Orange County Museum of Art for our encore screening of "A Light in the Dark" co-hosted by the Newport Beach Film Festival!  The doors open at 7pm and the screening starts at 8pm followed by a Q&A and after party (to be announced).
This is intended to be an outdoor screening so please remember to bring a blanket or lawn chair.  However, if the weather is looking a little dreary, fear not, there is a 120 seat theater in the museum.
A special thanks goes out to Kelly Bishop and Leslie Feibleman for organizing and hosting this evening's event in conjunction with Cinema Orange.  Also, thanks to Pete Schuller for providing the filmmakers with accomodations and friendship, Boris Odio de Granada and Chris Hooker (both brilliant fine artists) for recruiting Orange County attendees, as well as Alan Boinus and the Olsen twins;)  Thank you Ed Melliza (photographed above in center) for photographing tonights event and filming the Q&A!  Nice photo by the way, Jerry Zarnekee!  Finally, a very big thank you to Randy Higbee for providing us with table easels to display 3 original Frank Mason paintings in the OCMA Pavilion courtesy of Wendt Gallery.  See you all tonight!