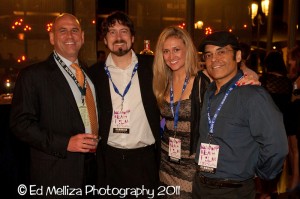 Thank you Newport Beach Film Festival for your hospitality throughout the week and arranging such excellent weather!  Pictured to the left is Gregg Schwenk (Executive Director of NBFF) with filmmakers Sonny Quinn (right), Scott Mason and his sister, Lindsay (middle).
From the opening night Gala at Fashion Island (where this picture was taken by Ed Melliza) right through to the end, NBFF delivered on so many levels.  Our programmer and festival guide, Pete Schuller, was a champion of our film and has become our good friend.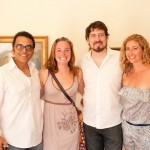 A big thanks goes out to our publicist Amanda Curry (pictured to the right between Scott and Sonny), for giving us helpful advice throughout the festival while promoting our screening.  Ed Melliza and Jerry Zarnekee were also instrumental in getting us the right photo ops, camera interviews and introductions to industry reps.  Lindsay Mason's organizational abilities and natural talents as a social conductor also created ample opportunities to reach out to industry folks and fellow filmmakers.  And, of coarse, a huge shout out goes to the volunteers of the NBFF!  Without their commitment there would be no festival.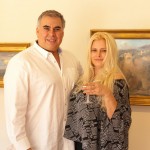 Also, thank you Joseph and Serina Manqueros (pictured left) for hosting the Wendt Gallery art reception of Frank Mason's oil paintings on Sunday, May 1st.  These beautiful landscapes will be up until June 30th at Wendt Gallery so if you are in the area make a trip down to Laguna Beach, check them out, and buy one before these prices sky rocket!  Wendt Gallery is located at 1550 South Coast Highway.  www.wendtgallery.com