Maestro Films has been very busy in the past month so let's bring you up to speed!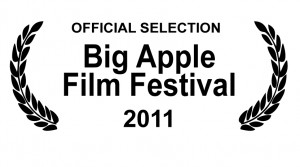 First off, our hats (and berets) are off to all of the festival programmers, coordinators and volunteers at the Big Apple Film Festival.  We had a packed house with standing room only at Tribeca Cinemas in New York City for our NYC premiere of "A Light in the Dark: The Art and Life of Frank Mason" on the evening of November 3rd, 2011.  Just before our feature-length film got under way director Stephane Goldstand screened his 22 minute film "Leap Before You Look".  It was a humorous and sincere look into his relationship with his wife and their concerns and desires to have a child.  Bravo, Stephane!  We wish you success and good fortune in all your ventures.
We also had a great time the following two days after the film screening when we invited friends, family and film festival goers to join us at Frank Mason's former art studio.  We had around 200 people who successfully made the 5 flight stair climb ("stare, then climb") up to the Little Italy open studio.  Visitors were able to walk through the gallery and, if they hadn't already, experience first hand the sensation of stepping into another century complete with ancient statues, jars of colorful pigments and the smell of linseed oil still lingering in the air.  Sonny and I had a great time meeting and greeting new faces and revisiting old friends and colleagues – which was apparent judging by the photo below.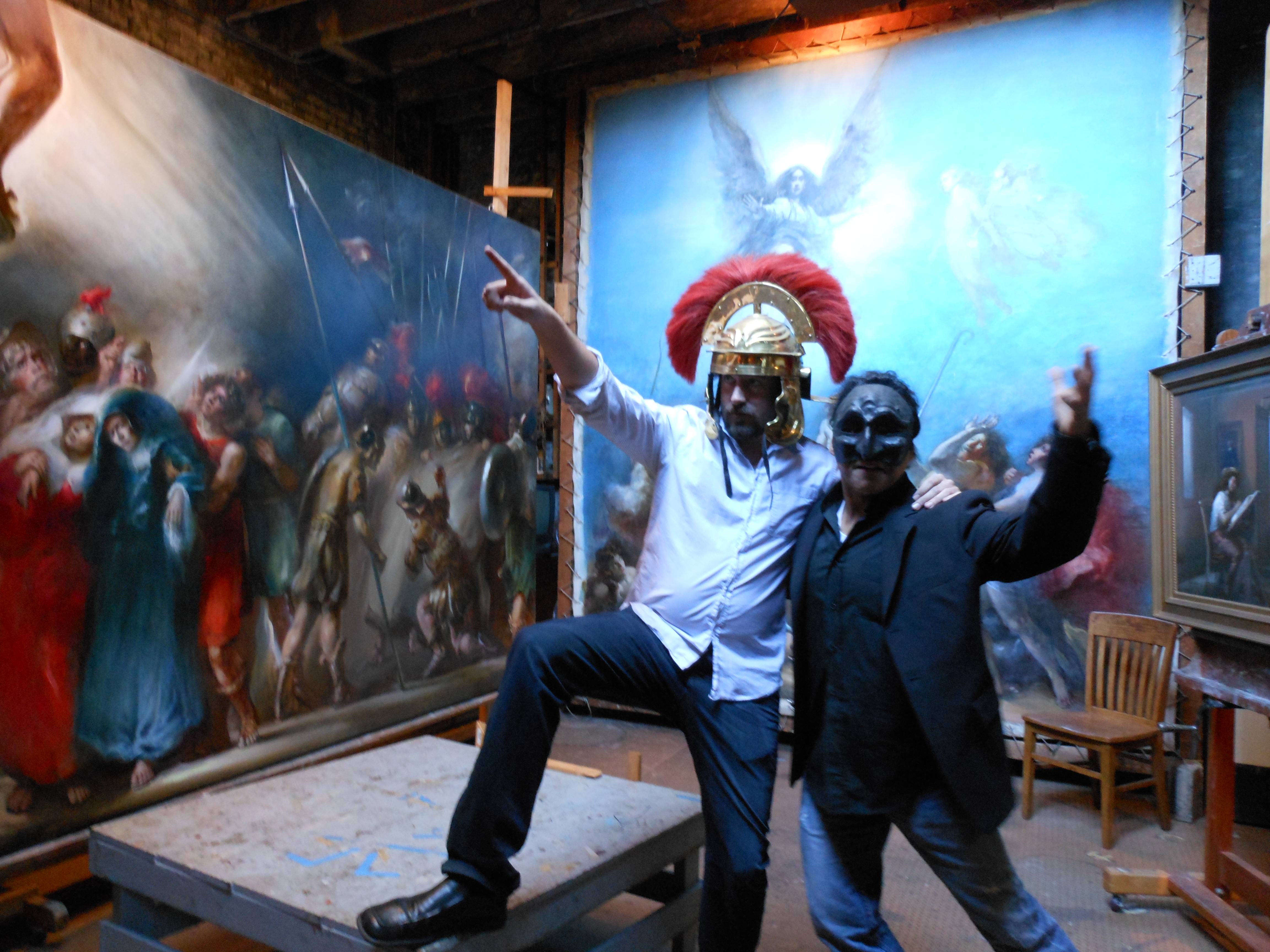 Now . . . after having completed our successful film festival circuit we are officially ready for distribution (hence our gestures of celebration and onward charge).  If you are interested in pre-ordering a copy of the film please send an email to FRANKMASONDVD@gmail.com and include in the body of your email how many DVDs you would like, your address and any other vitals you feel are necessary, then we'll put you on the list and notify you about methods of payment and dates for send out.  You can put in orders now.  Distribution shall begin in early December!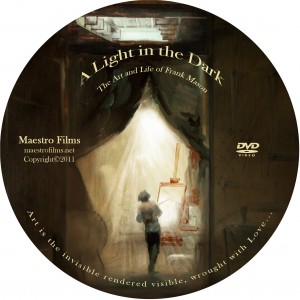 Here's a brief synopsis:
"Our greatest works of art are being destroyed!  Fine Art painter and educator, Frank Mason, reveals the scandal  behind art restoration and fights to preserve our cultural heritage.  Art lovers will be delighted and challenged.
A Light in the Dark captures the spirit of an authentic American Master.  Frank Mason's story is of a classical man of integrity who championed the proper preservation of historical treasures.   This documentary is powerful on screen, rich in scholarship and destined to be relevant for future generations."
Finally, lot's of people have been asking us, "What's next for you guys?"  We have some exciting projects that are currently underway.  Recently, Producer Scott Mason completed a short, fun project with some talented filmmakers and actors from San Francisco.  Directed by Ina Bagne and shot by Marlon Torres featuring Baily Hopkins & "the famously red-bearded" Ryan Ackerberg, it is a 30 second Doritos commercial which was recently submitted for the Doritos "Crash the Super Bowl" competition.  Filmmakers from around the country submit action packed, humorous or artfully creative commercials to be consider for a commercial slot for this coming Super Bowl XLVI.  Our teams' commercial has elements of all 3.  Click on the link below to watch the commercial: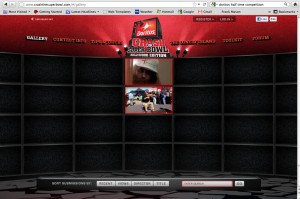 You can click on this link:
http://www.crashthesuperbowl.com/#/gallery?video=15065
If it doesn't directly link you to our commercial go to the gallery section search bar (lower right of the screen) and enter "Dorito Beard".  Two commercials pop up under that title – the "Intelligent Window Cleaner" is Scott's.  Tell all your friends and ramp up our number of views.  Who knows – you could be seeing it live during the game come February.
In other news, Sonny Quinn and Scott Mason have teamed up for yet another documentary film project.  This documentary, still in it's early stages, is about a minor league professional hockey team in New Jersey.  We don't want to let the cat out of the bag just yet so stay tuned for more details.  What we can say is that this is an entirely different topic of interest from our recent fine art documentary.  But given Sonny's sports background playing and filming competitive collegiate football and Scott's interest in hockey growing up in a big PA hockey town, we thought this would be a perfect venture to show the breadth of what we can film.  We are excited to bring together again the highest quality film making and storytelling ability that brought us our first film festival kudos with "A Light in the Dark".