Thank you once again to Newport Beach Film Festival and Orange County Museum of Art for a fantastic evening.  We had a great turn out for the outdoor screening and a very interesting Q&A which you'll be able to watch when we post it on this site in a few days.  A special thanks to Kelly, Leslie, Alan, Randy, Ed, Jerry, Kris and Kierstin (the Olson twins).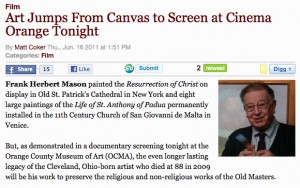 OC Weekly article:  "Art Jumps From Canvas to Screen"
Also, a very big thanks to Mitchell Block for meeting with us before the screening on Thursday in Santa Monica.  Not only is his company, Direct Cinema Ltd., responsible for some of the most well known documentaries of all time – in addition Mitchell has some incredible projects lined up for the coming months.  Read his Docunomics blog to get the inside scoop on producing documentaries for PBS and nationalo distribution.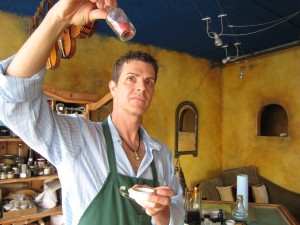 Friday was also a very eventful day.  In the morning we were invited down to the Lido in Newport Beach to visit the studio of classical violinist and violin maker, Boris Odio de Granda.  His studio was reminiscent of Frank's in NYC with ground pigments and mediums that Boris cooks up to varnish his hand made violins.  In this picture he's showing us his hand ground rose madder pigment.
Back in LA we had the opportunity to visit the Eliots in Venice Beach.  Alex and Jane were both in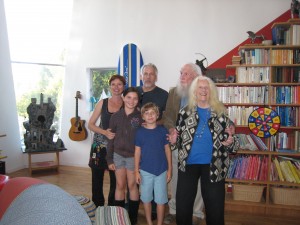 our film and shared with us their footage of the Sistine Chapel from the 60's which we incorporated into our film.  Thanks to their son, Jefferson, the 35mm reel was able to be salvaged and digitized for our use.  His wife, Kendell, comes from a family of dancers and their children Jasper and Sidney are both extremely talented artists in their own right.  After seeing our documentary Jasper (pictured lower center) pronounced to his folks, "I've probably done about 1,000 drawings in my life and I have about 1,000 more in my head.  A lot of them I can picture, but I don't know how to draw them yet."  What a statement – spoken like a true artist!
And finally, Sonny and I had the very great pleasure to meet an famed actor and all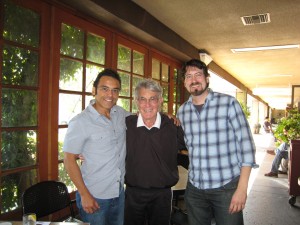 around man of the world, Frank Arno, at Glenn Deli off of Mulholland Drive.  Frank was an inspiration.  He told us never before heard stories about his friends Dean Martin, Frank Sinatra and his experiences working on the first Godfather.  He had so many stories we wanted to make our next doc on him.  However, he's been offered before but has passed since he still has stories to create.  Keep an eye out for his next project – which I can't divulge until it's in production.