The State Hermitage Museum in the classical city center of St. Petersburg, Russia has recently acquired Frank Mason's "Little Italy" to be featured in the museum's new 20th & 21st century art wing opening in 2014.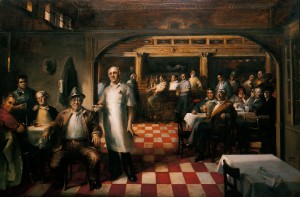 The Frank Mason Estate has recently contributed "Little Italy", a 6ft by 9ft oil painting on canvas, to the State Hermitage Museum in St. Petersburg, Russia.  The Hermitage is one of the oldest and most recognized museums in the world.  Little Italy was considered one of the artist's favorite murals, because it is a reflection of the neighborhood where he lived and worked for over 40 years.
 "Little Italy" is a large mural painting from the 1970's that embodies the spirit of Mare Chiaro Tavern, located in downtown New York's historic Italian neighborhood.  The patrons of this small restaurant and bar posed together for a few group sketch studies and then individually while Mason masterfully depicted each of their portraits.  After Mason completed this impressive 22 figure mural painting, he created a series of commemorative lithographs of the same subject matter.  A large neighborhood celebration and press gathering marked the inaugural day of the paintings installation at Mare Chiaro where it stood on display for over 40 years.
The donation of "Little Italy" was prompted by Russian history Professor Arcadi Nebolsine who has served as a trusted liaison between the cultural worlds of New York City and St. Petersburg for many years.   In May of 2003 Prof. Nebolsine arranged for Frank Mason's nephew, Scott, to meet with Dr. Mikhail Piotrovsky, Director of the State Hermitage Museum, in St. Petersburg.  This led to Dr. Piotrovsky's agreement to serve as an advisor for ArtWatch International.  Frank Mason was one of the founding members of this organization, which absorbed the first International Art Preservation Society he and Prof. Nebolsine established in the late 80's.  ArtWatch International and ArtWatch UK  serve as an international advocates for the conservation and stewardship of historically significant works of art and cultural monuments.
Upon Scott's return from Russia, Mason was introduced through written correspondence to one of Russia's principle advocates of art conservation, Dr. Anatoly Aloyshin.  Aloyshin was the director of the restoration department at the Ilya Repin St. Petersburg State Academic Institute for Painting, Sculpture and Architecture.  Aloyshin trained over 80% of the Hermitage's current restorers who are taught techniques of traditional painting at the Repin Institute before going on to an intensive restoration program and are then finally hand selected to serve as restorers for the Hermitage.  This drew Mason's interest as he, too, taught traditional techniques and classical principles at the Art Students League of New York for over a half century.  Mason passed along principles related to the uniformity of light on form enveloped in atmosphere.  This philosophy allowed his students to recognize the difference between a proper art restoration versus one that disturbs subtleties in appearance designed by the original intention of the artist.
In September of 2004, Mason attended a lecture at Sotheby's New York where he heard Dr. Piotrovsky give a lecture entitled, "The Fate of Universal Museums".  At the end of the lecture Prof. Nebolsine asked Dr. Piotrovsky how the Hermitage intended to carry out its restoration practices as they launch into a new era of museum stewardship.  Dr. Piotrovsky replied, "that the Hermitage had no intentions of scrubbing its paintings". From that day forward Mason held the Hermitage Museum in the highest regard and became an advocate of the museum's conservative restoration practices.  It is for this reason that the Frank Mason Estate has donated one of its most recognized and admired murals to a world class, encyclopedic museum of art whose expansion will soon include American 20th and 21st century artists.  This contemporary wing of the museum will open it's doors into the magnificent General Staff Building adjacent to the main museum in 2014.
The Frank Mason Estate would like to thank Prof. Arcadi Nebolsine for encouraging this acquisition, Generale Gianalfonso D'Avossa for facilitating the process, Dr. Victor Faybisovich for carrying out the execution of its delivery and Dr. Mikhail Piotrovsky for granting "Little Italy" a deserved place in the Hermitage collection.  Finally, the Estate would like to donate this mural in the memory of Frank Mason and Dr. Anatoly Aloyshin whose lives, work and tested principles exemplify the great history and artistic achievements that our cultural institutions are built upon.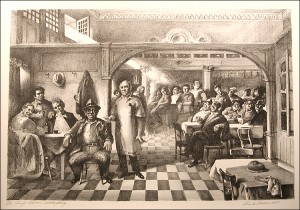 Lithographs of "Little Italy" are available for sale through the Frank Mason Estate.  Click here if interested in viewing and purchasing one of these limited series lithographs or care to navigate Frank Mason's online collection of paintings at www.frankmason.org.  Also, if interested in learning more about Frank Mason and his prolific career as an artist please click here.  You can also scroll to the next post below to find out how to order a DVD of the feature length documentary film, "A Light in the Dark: The Art and Life of Frank Mason".