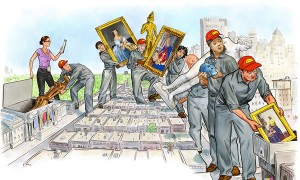 "OPPORTUNITY ON MADISON" – NY TIMES, SUNDAY JULY 31, 2011
Link to Holland Cotter's article here.
In case you missed it, there was a very insightful art article on the cover of the Arts&Leisure section of the Sunday NY Times yesterday.  Holland Cotter brings up some exceptional points about what role the Met should play in the world of art and how it should consider exhibiting and managing it's encyclopedic collection.
When I was visiting the Met one summer a few years back with the former Director of the Met, Tom Hoving (who was disguised in a loud Hawaiian shirt and a large brimmed hat so he wouldn't be recognized by the guards and staff) – we stopped just behind the grand stairwell.  The stairwell, in fact, that Hoving wanted to clear out back during his tenure to make way for a grand hall that extended to the back of the museum.  He pointed down at the tiled floor and whispered to me.  Do you know how much art is stored down below this museum?  Why do you think they have acquired so much?
He never presented an answer but it has always made me think.  Cotter points out that the Met only displays 10% of it's collection!  With the recent expansion to the Whitney, I'm starting to understand what Hoving was digging at.
Just to end with a few quotes form Cotter's article that are very relevant to "A Light int he Dark" and Frank Mason's philosophy;
"The upside of the museum boom of the past 40 years is that everybody goes to museums.  The downside is nobody's really there."
"Now, I feel, enough already with connectivity and engagement.  Give us some wisdom."