Click here to read Matt Knapil's review of our film in the OC Arts and Culture titled, "Cleanliness is Not Next to Godliness" published on June 24th, 2011.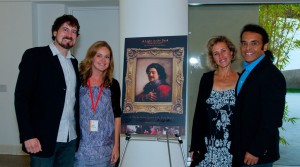 Thanks again to the Newport Beach Film Festival and the Orange County Museum of Art for inviting us to screen our film at the OCMA summer Cinema Orange program.  A special thank you to Kelly Bishop (left) and Leslie Feibleman (right) for hosting a successful event at the museum.
The filmmakers, Scott and Sonny,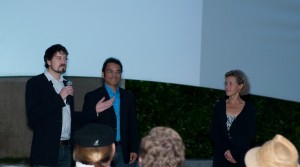 started off the evening meandering through an impressive and well curated exhibition of Alexander Calder mobiles and sculptures.   Calder was a student at the famed Art Students League of New York where Frank Mason taught for over half a century, so at the start we knew we were in good company.  The screening was outdoors in the pavilion courtyard of the museum.  Although it was a bit overcast it was a nice evening and after some brief introductions with our audience we were able to sit back and enjoy "A Light in the Dark" on the big screen under the stars . . . well, clouds.
After the screening our audience gathered inside the pavilion hall to sit down with the filmmakers for a Q&A.  We were stationed next to 3 of Frank Mason's original oil paintings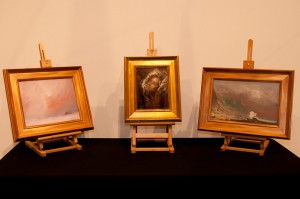 courtesy of Wendt Gallery and displayed on table easels provided by  Randy Higbee Gallery.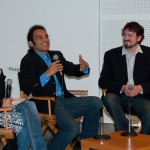 We'll be posting our Q&A footage next week, so stay tuned!
And, thank you to Lisa Silagyi, OCMA Arts Education Dept., and Wendy Brooks, Arts Commissioner of Newport Beach (centered below), for allowing us to film and photograph the event.  If you're interested in viewing more pictures from this evening link here to Ed Melliza's photography website.  Thank you Ed for your excellent coverage and thank you to everyone who helped make our Cinema Orange screening a success!